Interview with IMG
​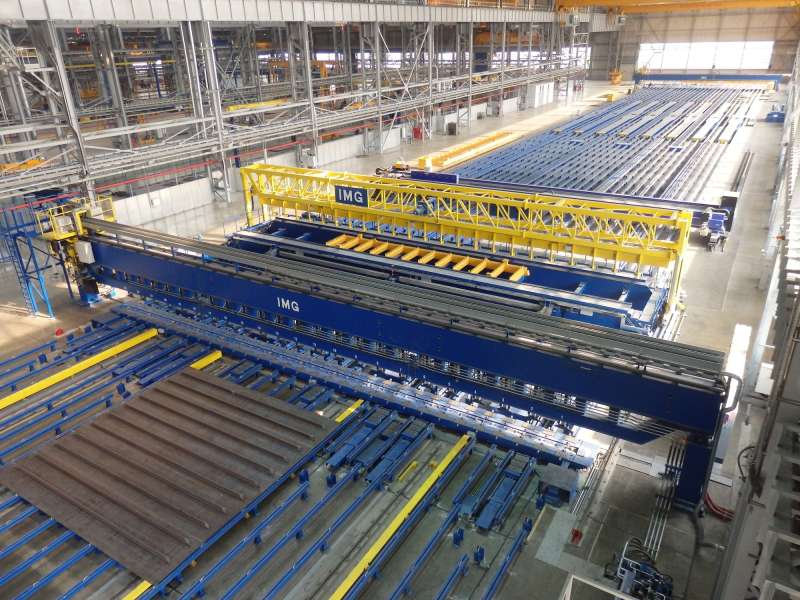 Das Team von easyengineering.eu bat unseren neuen Director für Vertrieb and Service, Jens Schuldt zum Interview. Wir freuen uns einen kleinen Einblick in unser Leistungsportfolio geben zu dürfen.
https://easyengineering.eu/interview-with-img/
IMG as a system supplier and engineering service provider is one of the leading vendors worldwide of complex plant and transport technology for companies in the shipbuilding, machine construction, structural steelwork and wind energy industries.
The company guarantees advanced solutions for customers' highly specific needs thanks to several decades of experience in the area of company and project planning for shipyards and factories, in addition to development, engineering and manufacturing of the latest production technologies.
Constant innovation is an important constituent part of our self-image. IMG sets themselves ambitious goals and ask themselves interesting questions on interesting topics. It is only in this way that IMG can succeed in discovering new perspectives and points of view so as to ensure the long-term success of the company and its own competitiveness. There are two basic pillars of this approach.
On the one hand, new and innovative products and procedures arise continuously as a result of comprehensive R&D work, and these are incorporated into our range of products and guarantee the long-term values of the products for the customer. On the other hand, IMG places great value on a long term collaboration with innovation partners, based on mutual trust.
Interview with Jens Schuldt, Director Sales & Service at IMG.
Easy Engineering: What are the main areas of activity of the company?
Jens Schuldt: Automated plant technology for complex large structures, machining centres for profile and pipe production and heavy load transport systems finds application in many areas of industry – regardless of whether it concerns a company that works with environmental technology or one in the energy sector, the transport industry or the construction sector. Classical examples of application are the panel line in shipbuilding or the production line for bridge panels in the construction industry.
E.E: What's the news about new products?
J.S: With our research and development team, we are continuously working on the further development and perfection of laser hybrid technology. As a specialist for innovative welding technologies and complex plant solutions, IMG began developing and integrating the laser hybrid welding process for industrial applications more than 17 years ago. This process combines the advantages of laser welding with those of arc welding: high welding speed, low heat input and good gap bridging.
Laser hybrid welding technology is used, for example, in panel production in shipbuilding. Structures with a width of over 24m (and corresponding welding seam length) can be produced. The production of panels takes place in the form of a flow-line production.
E.E: What are the ranges of products?
J.S: Plant technology made by IMG covers the entire spectrum from the idea up to the product. Planning, design and construction under one roof. Short communication routes, many years of experience, a capable team and the bringing in of the results of the latest research and development in order processing guarantee optimal solutions that are tailored to the needs of our customers. In order to ensure an economically optimal level of utilization of organization, logistics and production, we would be glad to offer our strong design, planning, construction and production capacities also for customer-specific individual and complete production tasks.
Project planning, design and production from a single source.
What we can offer:
Shipyard and factory planning;
Equipment and facilities for manufacturing of flat panels;
Equipment and facilities for manufacturing of curved panels;
Equipment and facilities for manufacturing of bridge panels;
Equipment and facilities for manufacturing of micro panels;
Robot welding gantries;
Production equipment for profile and pipe cutting;
Ship transport and heavy load transport systems;
Pipe shops and pipe transport / positioning systems;
Equipment and facilities for fabrication of pipe node;
Special cranes and crane traverses.
E.E: At what stage is the market where you are currently active?
J.S: Our core business is in the shipbuilding industry. This is constantly changing. We are always setting ourselves new challenges. The past few years have been shaped by the Corona Pandemic. Today we are worried about inflation, supply problems and geopolitical tensions. Nonetheless, maritime and naval industries are recovering.
E.E: What can you tell us about market trends?
J.S: The trend in shipbuilding is clearly in the thin sheet metal sector. Here we can offer targeted welding solutions using laser technology. The planning and realization of compact shipyards is also on the rise.
E.E: What are the most innovative products marketed?
J.S: Our most innovative products are production lines for panel fabrication equipped with laser hybrid welding technology. Robot welding systems with workpiece scan technology are also very innovative.
E.E: What estimations do you have for the rest of 2022?
J.S: The shipbuilding market is recovering and there are many projects. The difficult global conditions are mastered by us. We continue to invest in research and development and attach great importance to cooperation. We see good opportunities for 2023.